The following is an article, by Nishma's Rabbi Hecht, recently published in
Empowering News and Views
Disability Information and Torah Perspectives for Everyone
the email Newsletter of Yad HaChazakah - JDEC.
Beyond Chesed
[acts of loving-kindness]
By Rabbi Benjamin Hecht, Rabbinic Adviser, Yad HaChazakah.
[In the following article, Rabbi Hecht looks at the act of helping. When we help another person, what should be our intent and our objective? How does the giver's intent or the way he or she carries out an act of chesed affect the giver and receiver and the outcomes of the chesed? You may comment on our Facebook and/or Twitter pages - or send your comment to newsviews@yadempowers.org. Rabbi Hecht's article now follows.]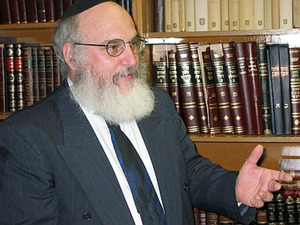 In my article The Evil of Chesed, Nishma Update 5757-1 (available at http://www.nishma.org/articles/update/update5757-1-chesed.htm), I discuss the often overlooked, potentially strong negative side of chesed. Within a Torah world view that highly values balance,

[1]

chesed -- while ethically demanded and absolutely necessary in a multitude of circumstances -- can also present a powerful challenge to the maintenance of this desired balance. It is thus not enough to act for the benefit of, for example, an individual with a disability. The further call of Torah is also to do so in a manner that also fulfills, to the extent possible, this ultimate goal of balance.

In a monetary transaction, balance is achieved when the two parties in a transaction feel that they have received equal value, albeit different items. Chesed is not of this nature for it reflects a situation when one gives more while the other benefits more. Indeed, this is also the very reason why chesed is so valuable. G-d is the very model of chesed for He gives to human beings without any desire, need or, even, actuality of benefit; the transaction is totally asymmetrical. Chesed is, thus, very important to us for through this behavior of giving without compensation, or even consideration thereof, we attempt to emulate Hashem. We must still, however, proceed with caution.

From the perspective of the one receiving, there is still a problem with such a singular and insular focus on chesed. To simply be on the
receiving end would seem to reflect a lack; there is a weakness in just being a receiver.
By being a giver focused only on giving, one, sadly, can also thereby participate in relegating the other into being solely a
taker. The opportunity for Divine emulation, with the resultant dignity, is thereby lost for this latter individual.
Does G-d want us to effect this type of imbalance? It would seem to be improper to reach our own goal of Divine emulation at the expense of another's Divine dignity. This is something that must be addressed.

Indeed it is addressed, even in regard to the Divine relationship that G-d has with humanity. The question is asked: Why did G-d, the Essence of Chesed Whose sole motivation was to give the good, not just place us immediately in the ideal World-to-Come? The answer, found as a fundamental Torah principle throughout Jewish Thought, is that He created this world first in order to offer us the opportunity t
o earn this Future Reward, to not be just takers. The emulation of Divinity, which must be an inherent part of this Paradise, demands self-achievement, sufficiency and ability. As Mishlei 15:27 states: "The one who hates gifts shall live." There is, thus, value in limiting our receipt of chesed and G-d has thus also given us the opportunity to achieve this as well. It is in the same vein that we must also be aware in our performance of chesed that we are not destroying the development and/or expression of this value of self in the one who benefits from our acts of chesed. Our goal must not only be to give but also to create the possibility, for the other, to 'earn' as well.
Returning to the example of the individual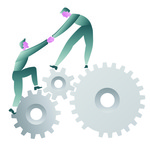 with a disability whom we
may wish to help, it is, thus, also important for us to
do whatever we can to consider the autonomy of this individual and assist in the development and actualization of the abilities of this person. Sometimes, it may actually be easier to just do the act of uncomplicated chesed and simply help the person. Still we must recognize that the more difficult path of assisting others to be able to help themselves, and be as fully-functioning as possible within society, is always the higher goal.
[2]
The prospect of becoming more G-d-like by striving to be totally giving can also be a misleading attraction
[3]
of which we must be aware. Our ultimate objective must be the goal of balance, of doing whatever we can, not to just help but, to assist an individual in being an equal participant in the transactions of a significant life.
---
[1] See Rambam, Mishneh Torah, Hilchot De'ot 1:4 which marks the golden mean as the proper human path.
[2] This corresponds with Rambam, Mishneh Torah, Hilchot Matanot Ani'im 10:7.
[3] We can often be misled by the attraction of what we believe to be the proper spiritual path but is actually a form of hedonistic (perceived-to-be-spiritual) pleasure. See my Spiritual Hedonism Nishma Introspection 5760-1 (available at http://www.nishma.org/articles/introspection/introspection5760-1-hedonism.pdf).